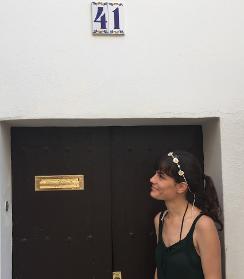 ¡Hola and Welcome!
Originally from Madrid, I have been living in London for about ten years. After completing a degree in Language and Linguistics in 2011, I decided to follow my passion and start teaching Spanish as a foreign language.
I love helping learners to develop their language skills while gaining knowledge of Spanish culture. As a Spanish speaker from Madrid, students benefit from listening to a native pronunciation which is key when learning a new language.
I graduated with a 1st Class Hons Degree from the University of Westminster. During the degree I completed research on the communicative Language Teaching (CLT) approach which focuses on communicative proficiency in language teaching, concentrating on the role of message in language practice rather than on mere mastery of structures. This research explored the notion of CLT and examined its priorities and major techniques. It also supplied a critical evaluation regarding language learners´ experience.
My teaching method comprises the four linguistic processes: speaking, listening, reading and writing in order to develop students' communicative competence. Listening and speaking are interdependent and both are required for oral language development. When learners are capable of comprehending the language they hear, speaking skills start to develop and speaking becomes a natural process. As students begin to speak Spanish, the more successful they will be at reading and writing, as language learning is the integration of the four linguistic processes.

I have also created presentations, exercise materials and outline lesson objectives for schools and tutoring agencies to be used as lesson packages.
Education:
2011 - La Jolie Ronde. Structured Course Training.

2008 - 2011 - First Class Degree in English Language and Linguistics (Language Teaching) , University of Westminster, London.

2007 - Certificate in Translation - English to Spanish, University of Westminster, London.

2000 - 2002 - Diploma in Tourism, School of Tourism, Madrid.

1999 - 2000 - Baccalaureate in Humanities and Social Science, Madrid.